U-Config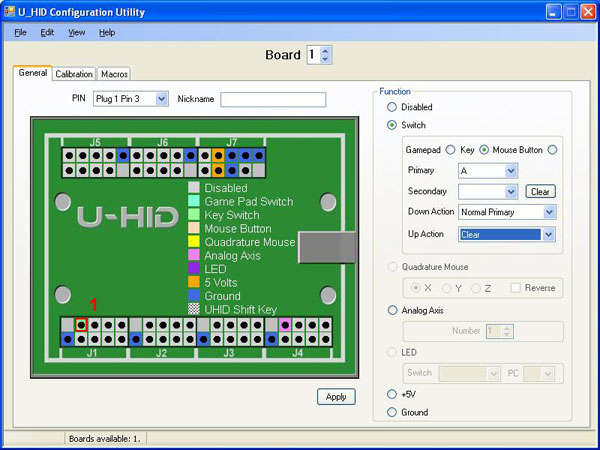 Updated Apr 2010: Firmware upgrade integrated with main application.


The U-Config application can be downloaded here: 
U-Config Installer



Output Driver SDK
The SDK is shared with the Ultimarc Pac-Drive board and can be downloaded from the link at the foot of this page
Firmware Upgrades

Latest version is V33 which adds support for analog X,Y center dead-zone and auto-calibration. Email support@u-hid.com for firmware.

Upgrade Instructions
Start U-Config and select File, Firmware Upgrade.
After a few seconds a "Driver Install" box will appear.
The driver should install.
The "UHID Firmware Upgrade" application should then start.
Select the UHID.UFW file
The firmware will download. After downloading, the board will reset back into normal mode and the download application
will no longer see it, but it can now be used normally.
For more details and recovering from failed upgrade see manual.